Welcome to a new era of design creation with pvDesign. We are excited to showcase the innovative changes that will empower your design experience. In this article, we will take a closer look at the remarkable enhancements this update has to offer.
Intro
Welcome to our latest update on pvDesign! This year, our focus is on making our software fully interactive, allowing you to iterate your designs quickly and easily while finding the most optimal ones. We have redesigned the "design process" workflow to generate every design that users simulate. With this new feature, users can visualize how changing inputs affect their final layout directly on the design process page, making the design process faster and more efficient than ever before!
New Design Process
Revolutionizing design creation
One of the most significant updates is the revamped design process. Now, every time you make modifications and click "run design", the software will generate an entirely new design. The history of all versions is conveniently located in the bottom right-hand corner, making it easy to track your progress.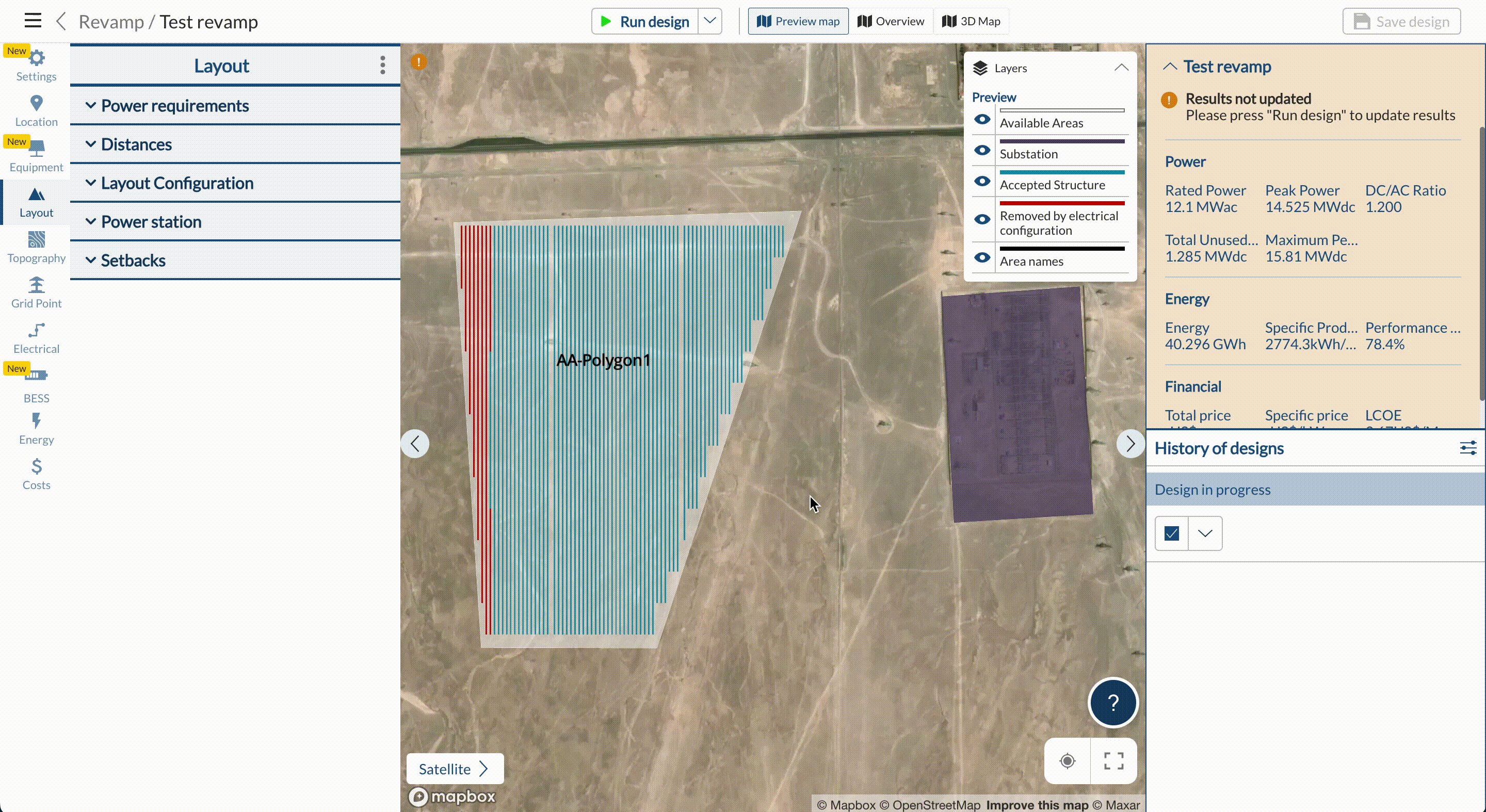 This means that for each modification, you will receive a new design. To save your preferred design, simply click on the save icon next to it. Returning to the project view, you will find your finished design waiting, just as before. Accessing documentation is a breeze; open the results to access the same view, and cloning a design is just as straightforward. The project folder view remains unchanged.
Enhanced View Options
Your vision, your way
Another significant feature is the ability to change your view during the design process. By selecting "overview", you will already have information on the location of power stations and other layers without leaving the design process. It is also possible to display the 3D view directly, for example. Quickly compare different designs by cycling through the open design in the history of designs, with the selected view style remaining consistent.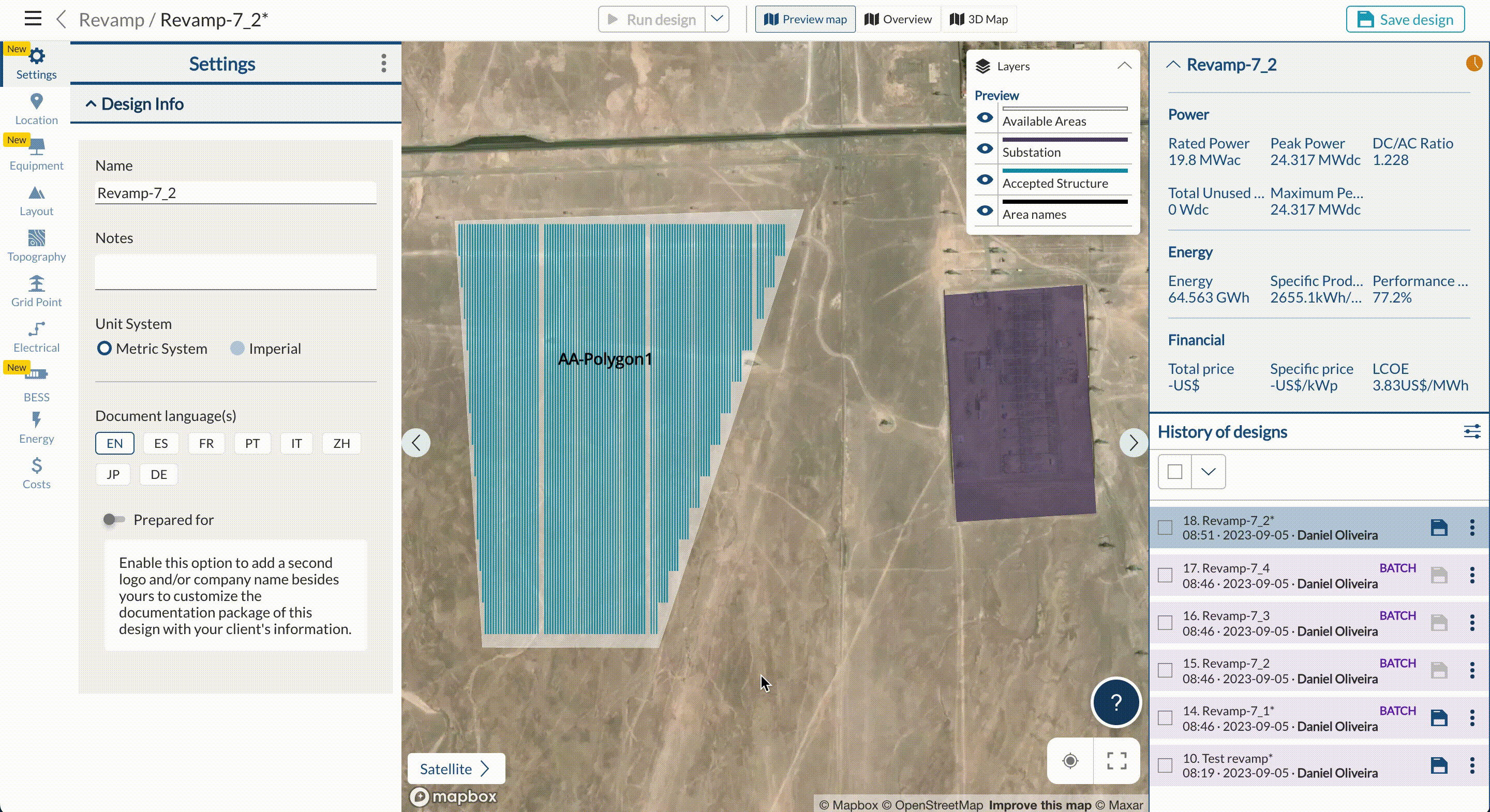 Version History and "Run Batch"
Time-limited version history
The version history with published changes has an expiry date of 24 hours. If you wish to keep any of these versions, save it. Additionally, the option to generate multiple designs is now called "Run batch", accessible by clicking the arrow next to "Run design".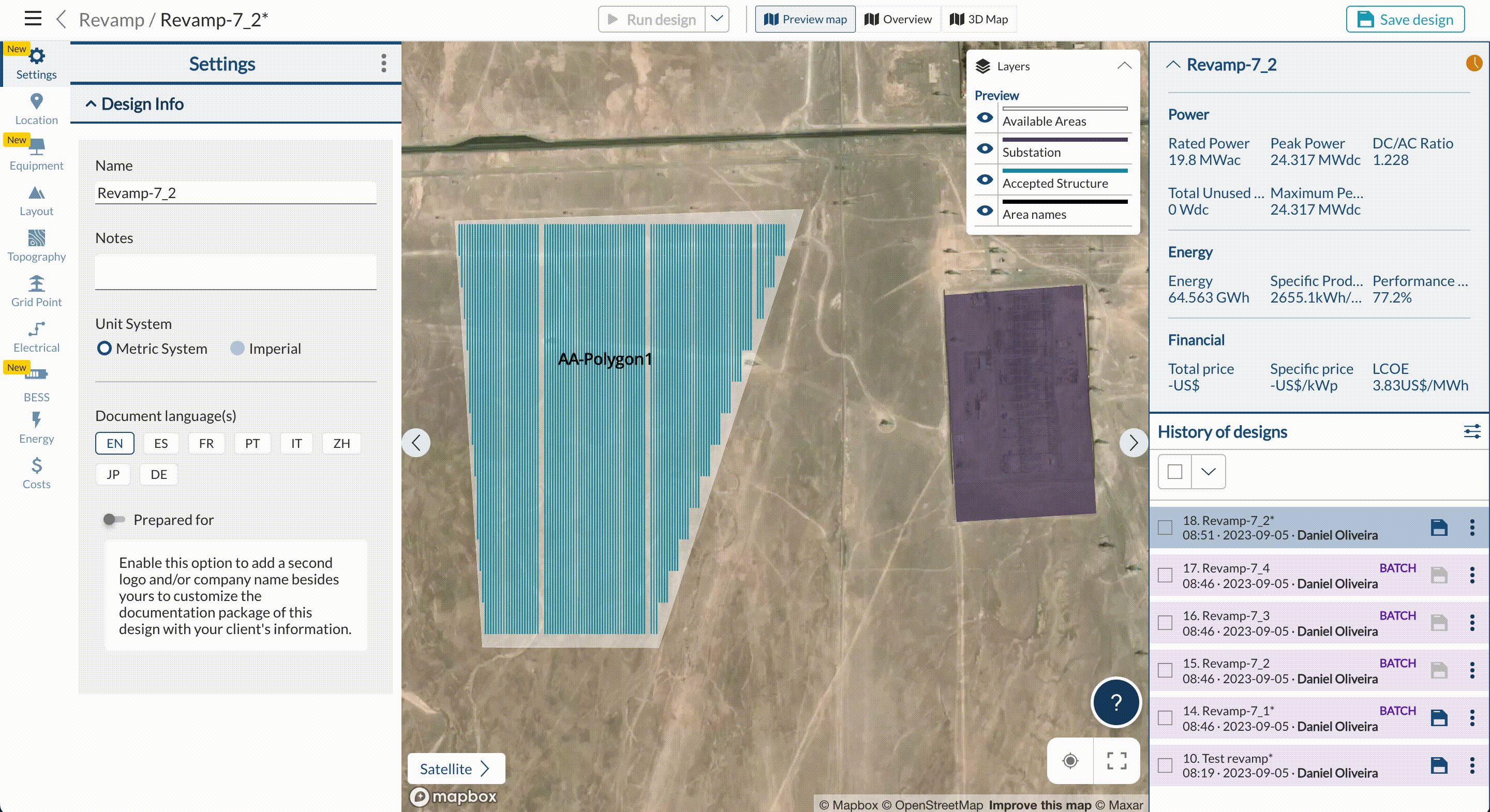 Streamlined Settings
The nine-step design process remains intact, but we've added a "Settings" tab. Here, you can customize the name and notes of a design, select the unit system, and choose document languages. For improved screen distribution, these tabs are now displayed vertically.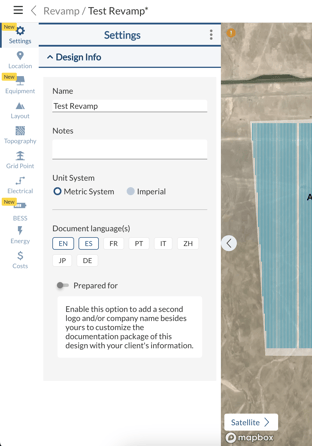 Results Window
The results window is now neatly situated on the right side, above the design history, containing the same valuable information as before.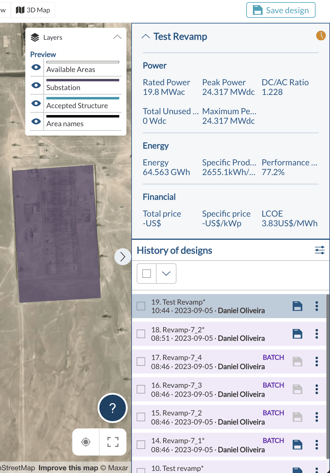 At RatedPower, our commitment to continuous improvement drives us to enhance our platform continually. Your feedback is a vital part of this process, so please share your thoughts with us.
For any other questions or more information regarding this topic, you can contact us at: support@ratedpower.com