Do you want to upload your meteorological data to pvDesign? Are you looking for higher precision for your simulations in sub-hourly time steps? You have come to the right place
Step-by-step guide
By default, pvDesign offers three different meteorological data sources. These vary from one country to another based on the dataset's coverage.
Users can also upload their meteorological data which can be done as follows:
Click on the button where it reads "Upload meteo":


Once you do, the following window will pop up:


To view all available data options, click on the drop-down menu:


Select the time step of your preference to see all the possible sources accepted by pvDesign:




Choose your desired source and upload your TMY file in CSV format.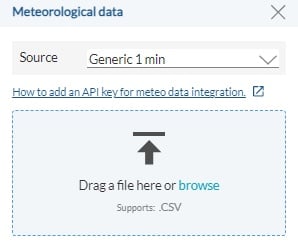 If you have not found your data source in our list, use our generic templates and fill in the corresponding columns with the required data. Save the file as a CSV format and upload it to pvDesign by selecting one of the "generic" options in the TMY file drop-down list above.
You can download these templates here: Hourly template | Monthly template | 15 min template | 5 min template | 1 min template
Powering up pvDesign with Sub-Hourly Resolution in Energy Production
Introduction
Sub-hourly resolution refers to collecting and analyzing data at intervals shorter than an hour. Traditional energy production systems rely on hourly data for decision-making, but sub-hourly resolution provides data at intervals such as 15 minutes, 5 minutes, or even minute-by-minute. This enhanced granularity better represents irradiance fluctuations that push PV systems into and out of inverter clipping, which hourly models mask and lead to an overestimation of energy production. The sub-hourly clipping losses are most relevant during rapidly changing cloud conditions, such as higher annual diffuse irradiance, and for projects with higher sizing ratios.
Sub-hourly in pvDesign
To use this feature, first, select "Sub-hourly" resolution from the drop-down menu and then choose your preferred time step. Make sure your file format matches pvDesign's generic template and has the same number of rows as the selected timesteps for a year. Alternatively, you can use our provided generic template above and fill in the data.
Using this feature might increase the simulation time.
Documents
When using a sub-hourly resolution, we should see some changes in the following documents:
Energy Yield Results: result intervals will match with the meteorological data timestep uploaded by the user.
Design Report
Energy Yield Report
Project Sheet
---
For any other questions or more information regarding this topic, you can contact us at: support@ratedpower.com