Do you want to upload your meteorological data to pvDesign? You have come to the right place
By default, pvDesign offers three different meteorological data sources. These vary from one country to another based on the dataset's coverage.
Users can also upload their own meteorological data which can be done as follows:
Click on the "plus" symbol.


The following box for your own typical meteorological year (TMY) file will appear.



Click on the arrow of drop down menu and see all the possible database formats.



Choose your desired database and upload the file in CSV format.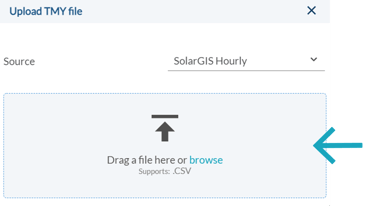 In case you have meteorological data from other sources, you can use our generic templates and fill in the corresponding columns with the required data. After that, make sure to save the file as a CSV and then upload it to pvDesign by selecting one of the "generic" options found in the TMY file drop-down list above.
You can download these templates here: Hourly template | Monthly template
---
For any other questions or more information regarding this topic, you can contact us at: support@ratedpower.com